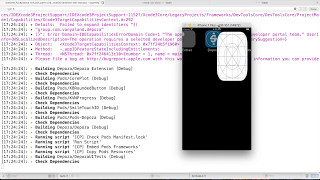 Please register ASAP since seating is limited to 20 seats!
Price: $500.00
Registration is unavailable
Scalable iOS Test Automation with XCUITest and Swift 3 (Online)
Note: You must have Mac for this bootcamp
In 7-sessions on-line bootcamp you will learn how to build production-level test framework in XCode for iPhone app using Swift 3 programing language and XCTest + UiTesting library 
What are the prerequisites?
Basic knowledge of OOP concepts ( any programming language)
Be comfortable to navigate around XCode
Why XCUITest and not Appium?
XCUITest is Apple's native library, thus you will get the latest updates first
Under a minutes setup vs Appium's hours of configuration
Easy to use library
What test automation framework and programming language are we going to use?
XCTest  — Apple native framework for writing Unit and Ui Functional tests
Swift 3 –a powerful and intuitive open source programming language for macOS, iOS, watchOS and tvOS which is easy to learn
Ui Testing – Xcode 8  native library for Ui Functional Test
Course Outline:
Build production level test suite using Page Objects
Make tests more resilient using Server Side fixtures via Rest API
Decorate tests with flexible Date object library
Create Swift extension for missing XCUITest functionalities
Debug problems in XCode and resolve it
Learn how to get reports from your tests
Build tests from command line using XcodeBuild and Fastlane
Learn Swift programming language
Q&A:
Do I need to have iPhone for this class? Not necessary. We are going to use iPhone simulator which is part of Xcode.
Is class taught in English? Yes
Is it real time on-line interactive bootcamp with instructor? This is going to be on-line class with real instructors. Bootcamp mediator will type code in real time while explaining material to the students. At the same time, another instructor will be answering questions in live chat. You will also receive recorded lecture with completed code in GitHub after each session. We will host live group in Skype in between online session for questions.
Are we going to write test for real app?  Yes. All the tests will be written for real iPhone app from real startup.  You may show frameworks setup with written tests during interview as demo.
What are the requirements?
Mac with minimum hardware requirements: CPU: 2Ghz+, Intel i5+, RAM: 8Gb+

All required software will be installed prior to the 1st class (Email with instructions will be sent one week prior to the first session).
Please register ASAP since seating is limited!
* Registration refund policy:
Stress free trial — 100% refund after first session
Online Course
Monday, May 22, 2017 from 8:00 PM to 9:00 PM
Thursday, May 25, 2017 from 8:00 PM to 9:00 PM
Thursday, June 1, 2017 from 8:00 PM to 9:00 PM
Monday, June 5, 2017 from 8:00 PM to 9:00 PM
Thursday, June 8, 2017 from 8:00 PM to 9:00 PM
Monday, June 12, 2017 from 8:00 PM to 9:00 PM
Thursday, June 15, 2017 from 8:00 PM to 9:00 PM