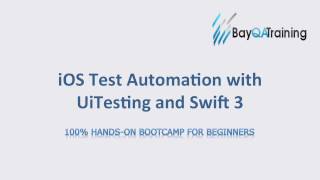 Please register ASAP since seating is limited to 30 seats!
Price: $50.00
Registration is unavailable
iOS Test Automation with UiTesting and Swift 3 ( for beginners )
You must have Mac for this bootcamp
In 1-day, 100% hands-on bootcamp you will learn how to start automating iPhone Native app from scratch using Apple's native library UiTesting and Swift3 programming language.
This highly interactive and group oriented bootcamp will give you a chance to build real automated solution using the hottest Swift programing language in conjunction with newest XCUITest library from Apple. 
Do not wait! Get the most in-demand skill set in the market now!
Stand out from the crowd with this highly desirable skill!
This training is for manual testers who want:
make a shift in their career and become Software Engineer in Test
make more compensation
feel more confident in current market
Should I have any programming experience?
Not at all! We will teach you everything from ground zero!
Why we are different?
We are not typical bootcamp. We teach through day-to-day work tasks using Agile approach. From first minutes of the bootcamp, you will start writing test code against real iOS app.
You will work in pair just like at real world job. Pair programming is proven to be very effective and used heavily industry wide.
Why XCUITest and not Appium?
XCUITest is Apple's native library, thus you will get the latest updates first
Under a minutes setup vs Appium's hours of configuration
Easy to use library
What test automation framework and programming language are we going to use?
XCTest  — Apple native framework for writing Unit and Ui Functional tests
Swift 3 –a powerful and intuitive open source programming language for macOS, iOS, watchOS and tvOS which is easy to learn
Ui Testing – new Xcode 8  native library for Ui Functional Test
Course Outline:
Learn about iOS native applications automation process
Learn how to configure iOS  XCode on your Mac
How to use UITesting record feature in XCode to speedup writing tests
Identifying app elements using XCUIElementQuery methods
Learn how to get reports from your tests
Build and run tests from command line using XcodeBuild 
Learn how to debug problems in XCode and resolve it
Learn basics of  Swift programming language
Q&A:
Do I need to have iPhone for this class? Not necessary. We are going to use iPhone simulator which is part of Xcode.
Is class taught in English? Yes
Are we going to write test for real app?  Yes. All the tests will be written for real iPhone app.  You even will be able show your completed framework  with written tests during interview as demo.
What are the requirements and prerequisites?
Mac with minimum hardware requirements: CPU: 2Ghz+, Intel i5+, RAM: 8Gb+

All required software will be installed prior to the 1st class (Email with instructions will be sent one week prior to the first session).
Please register ASAP since seating is limited!
* Registration refund policy:
100% refund before first class
No refund after attending
1700 W Hillsdale Blvd, Building 14 Room 201 San Mateo, California 94402
Sunday, March 26, 2017 from 1:00 PM to 5:00 PM